General Information
Location:
Calle Jorge Guillén, 6. 47003 Valladolid-España
Tel. +34 983 362 908. Fax +34 983 375 295
www.museopatioherreriano.org
patioherreriano@museoph.org
Opening Hours
Open Tuesday through Friday from 11:00 to 14:00 / 17:00 to 20:00. 
Saturdays from 11:00 to 20:00.
Sundays from 11:00 to 15:00.
Closed on Mondays (except official holidays), on Sundays evening, 25th of December and 1st of January.
Official holidays (consult)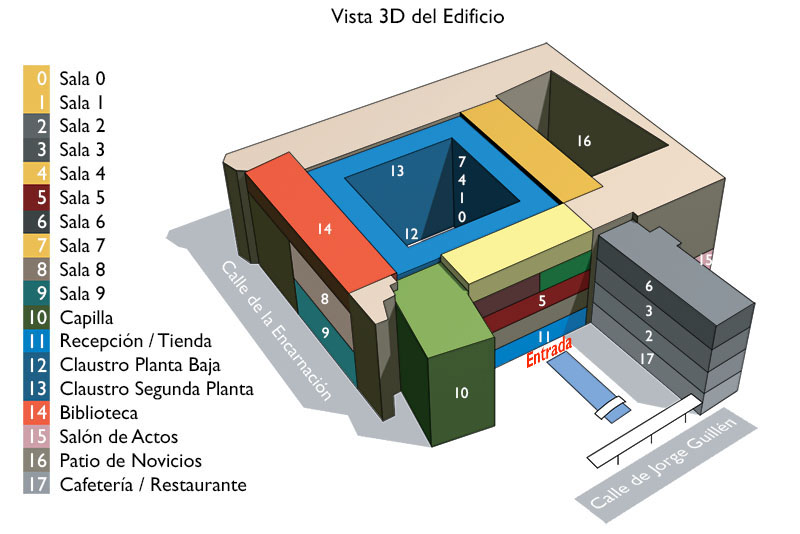 Free admission
Accessibility
The museum entrances have ramps to accommodate people in wheelchairs. Wheelchairs are available from the cloakroom for those who need them. The exhibition spaces and public facilities are accessible by elevator and ramps.
Visitor Information
In order to protect the art works and visitors, you will be asked to respect the following policies during your visit:
Works of art may not be touched.
Visitors should not enter the exhibition spaces with bags, umbrellas or sharp objects.
Drinking and eating are not permitted inside the exhibition halls.
Smoking is not allowed except in the Museum cafeteria.
Photography
Photography for personal use is permitted except where specifically prohibited. Flashes and tripods are prohibited. Video cameras may only be used at the museum entrance and courtyards. The reproduction, distribution or sale of photographs without the museum's permission is forbidden.
Checkroom
To protect the works of art from possible damage, you are kindly requested to deposit suitcases, bags, umbrellas, packages, and briefcases larger than 28 x 36 cm. in the checkroom.
Animals
No animals are allowed in the museum, except guide-dogs.
Public transportation
Buses:
1, 3, 6, 8 (www.auvasa.es)
Trains:
RENFE (Valladolid Campo Grande Railway Station) (www.renfe.es)
Airport:
Villanubla Airport (only 15 km. From the city centre).
Parking:
Public parking is limited to the surrounding streets and commercial garages. There are three private parking in the surroundings of the museum: Plaza Mayor, Plaza de Poniente and Paseo de Isabel la Católica (see map for locations).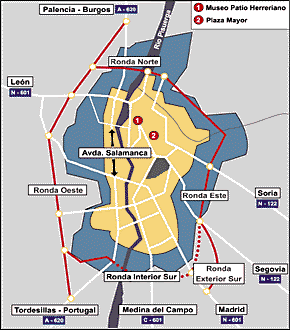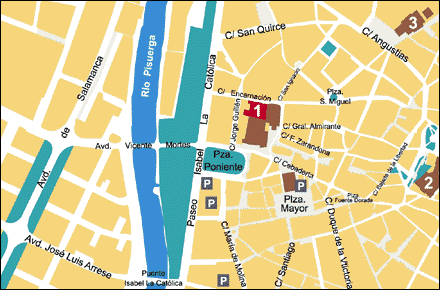 Services
Library and Documentation Centre
The museum includes a library specialized on Spanish contemporary art and the Ángel Ferrant Archive. 

Open Mondays from 10:00 to 14:00
Tuesday through Friday from 10:00 to 14:00 / 17:00 to 19:00
Saturdays from 11:00 to 13:00
Closed on Sundays and official holidays

For further information contact us at biblioteca@museoph.org.
Museum Friends
Join the Museum Friends Foundation. There is a wide range of offers to individuals, families or companies. As a member of the museum, you will have the following offers:
Free tickets to special events
Discounts at the museum shop, cafeteria and restaurant
Members-only previews
For further information, please visit the Friends of the Museum stand at the museum entrance, the museum web space Amigos del Museo, or call +34 983 362 908.
Museum Shop/Bookshop
Open Tuesday through Friday from 11:00 to 14:00 / 17:00 to 20:00. 
Saturdays from 11:00 to 20:00.
Sundays from 11:00 to 15:00.
Closed on Mondays (except official holidays), on Sundays evening, 25th of December and 1st of January.
Official holidays (consult)
Museum Cafeteria and Restaurant
The museum has a cafeteria and restaurant.
Tel.: +34 983 331257
Areas
The museum has created a wide range of services for institutions and companies: conventions, meetings, presentations or seminars. These activities will be held on different areas within the museum, to afford the opportunity to enjoy the art works in the comfort of a private visit. For further information call us at +34 983 362 908, visit the web site Alquiler de espacios or contact us via e-mail at desarrollo@museoph.org
Activities
El viaje en la mirada. 
The education department has designed educational programs for schoolchildren. For information and bookings call +34 983 362 908 or e-mail us a educacion@museoph.org
Los programas para familias
These programs will include visits to the collection, workshops and other activities. For information on program dates and registration call +34 983 362 908 or send e-mail to educacion@museoph.org
Other museums and centers of contemporary art in Castilla y León